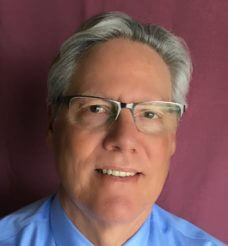 Robert C. Grossman,
PT, OCS
Robert C. Grossman was valedictorian of his 1981 physical therapy class at the University of Maryland and as of 2017 has been practicing in orthopedic physical therapy for 36 years. For 30 years beginning in 1987, he has been an owner and clinical director of Sports and Orthopaedic Therapy Services, a physical therapy practice emphasizing functional diagnosis and manual therapy.
Through the years Mr. Grossman has studied various manual therapy approaches and incorporates their evaluation and treatment procedures where appropriate. He was given the opportunity early in his career to study with and take courses from many osteopathic physicians, and they have left a strong impact on his evaluation and treatment style.
He has taught many post-graduate continuing education courses across the country including those organized by the Maryland APTA, Chesapeake Clinical Resources, and other organizations. The topics of these courses vary from evaluation and treatment of somatic dysfunction of the spine and extremities to assessment and treatment of altered neurodynamics, myofascial release, and positional release.
He has developed new techniques in which he provides instruction called "Closed Chain Manipulation". The techniques are used to treat movement restrictions which are primarily the result of connective tissue inextensibility.
In 1997 he earned his clinical specialist board certification in Orthopaedic Physical Therapy, certified by the American Board of Physical Therapy Specialists, and was re-certified in 2007 and again in 2017. In 2016 the OCS certification was held by less than 6% of physical therapists across the country. As owner and clinical supervisor of SP.OR.T.S. for 30 years, he also serves as a clinical instructor and adjunct professor for Maryland, Temple, Delaware, and many other universities.
In his undergraduate days at the University of Maryland, he pitched the Maryland baseball team to 2 ACC championships and then in 1972 he became the only player selected as the ACC's Most Valuable Player in baseball from the University of Maryland. He was then selected number 26 in the 1972 major league baseball draft and went on to play professionally with the Cleveland Indians organization for seven years, including the 40-man major league roster for three years. He subsequently sustained a brachial plexus injury and was forced to retire from professional baseball. During his rehabilitation from this and other injuries, he was under the care of physical therapists and found his new career direction from these experiences.
Bob is also an avid, low handicap golfer, who has played on the "A" team and senior "A" teams at Hobbits Glen Golf Club in Columbia Maryland. In 2016 Hobbits Glen was champions of the Washington District senior "A" league, which included clubs from Congressional, Bethesda, Columbia, and others in the DelMar, Va. As an accomplished player and as an expert in biomechanics, he understands the mechanics of an effective golf swing, as well as all other throwing sports.
As a physical therapist with over 36 years of clinical experience and board certified in orthopedic physical therapy, he is uniquely qualified to assess the golfer's physical abilities which specifically relate to his/her ability to hit the ball consistently well and long. If there are mechanical problems with your neck, shoulder, back, hips, knees, or ankles he will recommend treatments which will ameliorate the problems, so the golf swing will be made more supple, strong, and balanced. See the website under specialty programs for additional information about this and other programs.